Our Winery
The conception of our winery began in the spring of 2003. After months of researching and debating alternatives, the decision was made to build Canada's first strawbale winery in the Similkameen Valley. Building design incorporated function and eye-pleasing detail.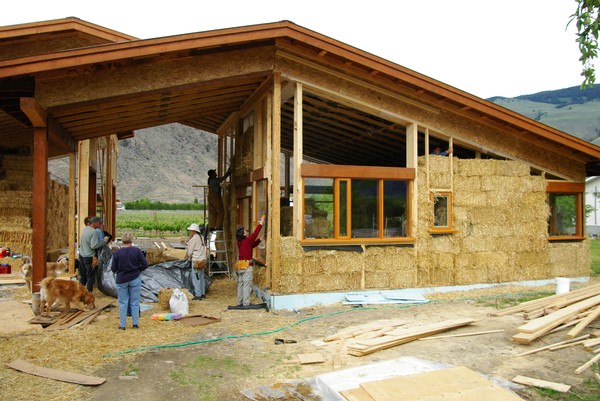 We chose this building method after much research and planning. Earthy" 21 inch thick walls provide superior insulation qualities – ideal for maintaining constant barrel room temperatures and for keeping us cool in our desert heat. The buildings are beautiful and very unique. In June of 2004, a strawbale workshop took place in conjunction with Sustainable Works of Nelson, BC. 22 people participated in a 5-day workshop that was designed to teach them the intricacies of strawbale construction. Using our project to get hands on experience, everybody went to work and the tasting room building was baled, sewn and stuccoed inside and out in 5 full days. The sense of community and ownership of the work done was an excellent by-product of the workshop.
WHY STRAWBALE?
Strawbale design has been around for over 200 years. The energy efficiency is unparalleled as walls are rated at up to R-60. This results in a building that is naturally cool in our hot desert summer and retains heat well in the winter.
SOLAR POWERED WINERY
We are proud of our green initiative here at Orofino. In the fall of 2012, we installed a solar power hybrid system that enables our tasting room and office building to be completely 100% run on solar energy. The system includes roof mounted solar pv panels to generate electricity to power the building as well as special solar panels that are able to heat all of our water needs in the building. The system has exceeded our expectations and we love to spend time watching our power meter spin backwards!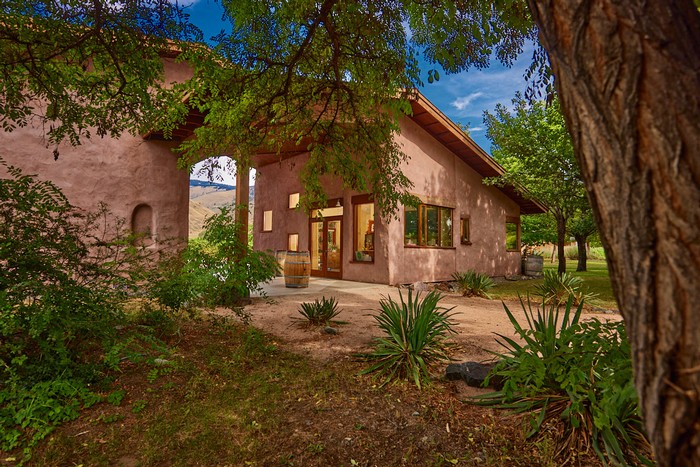 Besides being Canada's first energy efficient solar powered, strawbale winery, Orofino also hosts guests in high end accommodations on the property. These beautiful, green certified suites overlook Orofino Vineyard and it's namesake, Orofino Mountain.
Orofino Winery has received Gold Level Certification from the world's largest and most credible sustainable tourism certification program. Green Tourism, beginning in the UK in 1997, launched it's assessment and green certification program as a way to help the tourism industry partners improve their sustainability and become recognized for their effort.
A thorough independent green audit, led by Green Tourism, considered every aspect of Orofino's business practices and special mention was made of our contribution to the local community, vineyard practices and unique energy efficiency initiatives taken throughout the years.
Stay in Touch!
Sign Up For Our Newsletter
Keep up to date on the latest wine releases, news and events!