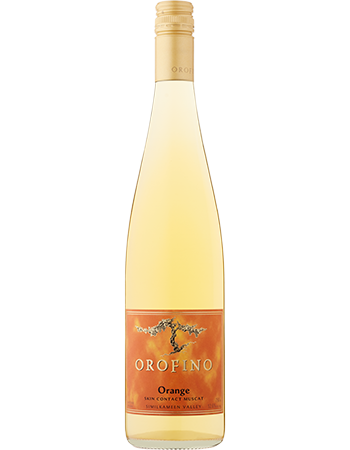 "Orange" Skin Contact White 2022
Wine Profile
Tasting Notes
Fermented and aged on the skins for 3 weeks before being pressed off and aged in older barrels until bottling. The resulting wine is dry and full-bodied, with notes ofbergamot, lychee and Turkish Delight. Tannins create a nice framework for structure and richness that stands up to a variety of foods. Try it with salty foods or a pork tenderloin with citrus glaze.
Awards
Silver medal at Wine Align National Wine Awards of Canada
Vineyard Notes
Grapes for this wine come from both the Hendsbee Vineyard, the Mutch Vineyard and the Orofino Home Vineyard. The Hendsbee's Muscat Blanc vines planted in 2008 along with our Home Vineyard Muscat planted 30 years ago are used. The vineyard soils are quite rich and rockless for 2-4 feet depending on where one digs. But once you hit the rock, it is all gravel and river rock for 100 feet. It would be classified as sandy-loam with considerable organic matter and calcium carbonate.
Winemaker Notes
Minimal sulphite additions used before bottling. Vegan friendly.
Production
242 cases produced